We recognize that all of our patients are unique and deserve to receive orthodontic care that reflects their individual needs. Our experienced and talented team is committed to working with you and your family to create a comfortable, stress-free, and rewarding orthodontic experience every time you visit our practice.
We are pleased to welcome you and your family, and we look forward to working with you.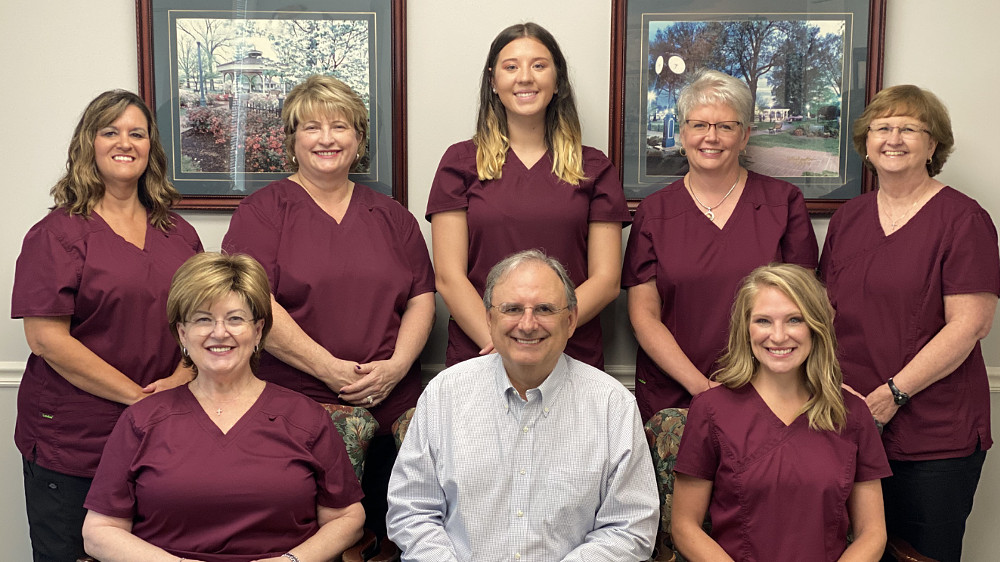 ---
Georgia
Appointment Coordinator
My joy is seeing all the smiling faces come and go while setting appointments for the office. Dentistry has been a big part of my family, as my sister, Rita, is a retired dental hygienist, and my daughter, Jane, followed her into the field also as a hygienist. I have been with Dr. Whited's office since 2002.
When not at work, I enjoy spending time with my husband, Steve, and our three adult children and four grandchildren.
Shelia
Registered Dental Assistant
I'm a registered dental assistant with more than 30 years of experience in the orthodontic field. I've been a part of Dr. Whited's practice since 2006 and enjoy working with such an experienced team.
I've lived in this area most of my life and enjoy being part of the community. I spend my free time with my very large family, gardening, walking the dog, sketching, and playing with my grandchildren.
Linda
Registered Dental Assistant
I have had the pleasure of working in the field of orthodontics for more than 30 years. I joined Dr. Whited's practice in 2002. As a registered dental assistant, I find it very rewarding to work with our team and our patients. The ability to completely change someone's smile and give them self-confidence is priceless.
My husband and I have lived in Collierville for many years. We are blessed with two sons and our daughter-in-law. Our sons are schoolteachers and active members of their community. I enjoy spending time with my family and we love to travel. I absolutely love our pets and love hearing about our patients' pets! I'm always happy to show off my photos of my dogs!
Jackie
Financial Coordinator
I joined Dr. Whited's team in February 1999. I replaced my daughter who had worked for Dr. Whited since graduating from high school in 1989 and was moving out of state. I really enjoy my job taking care of the financials for our patients. We have a wonderful practice, a wonderful experienced team, and we love taking care of our patients and seeing their smiles.
I have two grown children, four grandchildren, and one cat. My daughter now works for a dentist in Gulf Shores, Alabama, and my son is a Memphis firefighter. In my spare time, I love gardening, being outside, doing crossword puzzles, and reading.
Kari
Registered Dental Assistant
I have been working as a RDA for 26 years, 16 of which have been dedicated to orthodontics. It is my favorite thing to do in the dental field! I've been with Dr. Whited since 2015 and love it! He is the kindest, most skilled orthodontist I've ever worked with. The entire staff is like a family and every one of them is at the top of their game.
I have a wonderful husband, three great kids, and a grandson I adore. My main hobby, outside of helping give people beautiful smiles, is anything to do with Mustangs. Whether it's driving them or working on them, it's my passion!
Michelle
Registered Dental Assistant
I've been working in the orthodontic field for 27 years, and working at Dr. Whited's practice since 2001. I love working here and I'm so proud to be part of such an amazing team of assistants and office staff. As a practice, we all work together to give patients great smiles, and a comfortable and friendly experience.
I am a single mom of two beautiful daughters, one who has her own family and one who just completed her Theology degree. I enjoy martial arts and playing softball, and I love spending time with my family!
Michelle
Registered Dental Assistant
I've worked in dentistry as an RDA since 1988 and have practiced orthodontic assisting since 1990. I have been employed with Dr. Whited's practice since 2008. It is a great pleasure to help our patients achieve the smiles they've always wanted, and to do so in such a warm, wonderful environment.
Originally from Auckland, New Zealand, I have made the Memphis area my home since 1990. My two teenagers are the loves of my life. When I have any down time, you can find me gardening, knitting or quilting, or tending to my animals.